Welcome to My Web Site
|
Home



Interests

Updated 9/26/05
Flying the R22 out of Fulton County Airport, NY (NY0)...8/19/03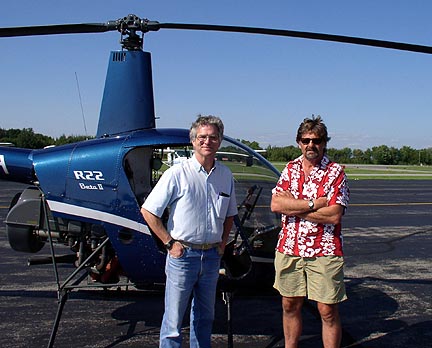 Me and my flight instructor, Dave Kilcullen.
Robinson R22 Checklist
Front and Back of the Robinson R-22 Pilot's Cockpit Checklist are posted below.
Print these two .jpg images individually and laminate them back to back.
To save these two files (front and back) to your hard drive,
"right click" on the "front" checklist image, then "left click" the "save picture as" option.
In the same manner, save the "back" checklist image.
The "0 - 40 Scale" that runs along the edge should measure 8.5 inches when printed.
This checklist is composed of two scanned images which are .jpg files...NOT as word files!
Print the images (front and back) as you would a .jpg photograph file!

Disclaimer:
Before using, check whether this is the
current version of the Robinson R22 Checklist!
(Front)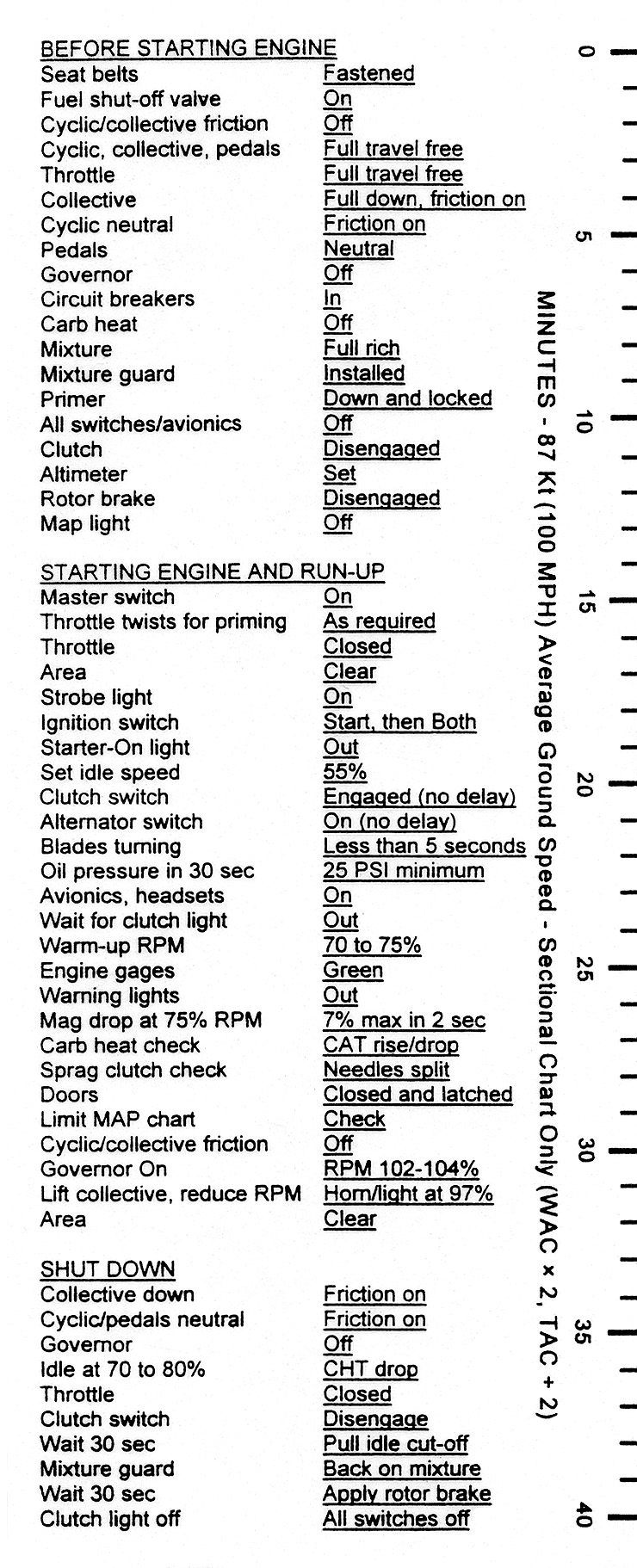 ========================
(Back)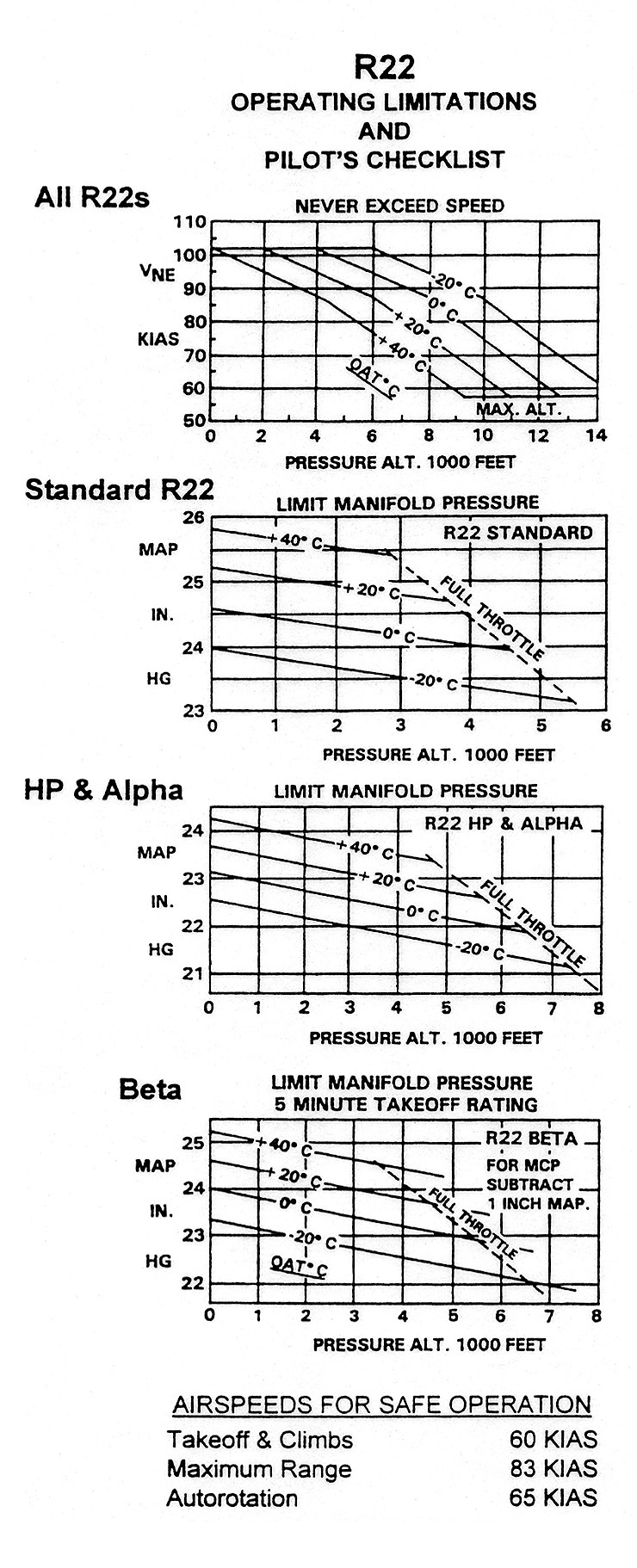 ==========================================

Remote Control Photography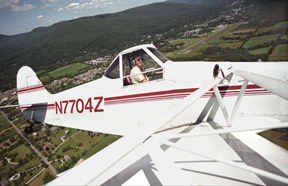 Below is an account of how the inflight remote control

photos on my North Adams Airport webpage were shot.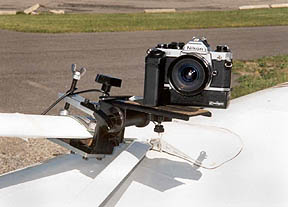 Nikon FM2n with Tamron 17mm f/3.5 Super Wide Angle.

This is an incredibly SHARP lens...and inexpensive!

I've made poster size prints that are "tack sharp".

They go for around $150.00 (used) on Ebay.

The mounting device is a "Third Hand" (no longer manufactured),

customized by my machining wizard friend, Al Barbuto.

Al's handiwork has allowed the mount to

be used with many types of struts.

Though this mount is no longer manufactured, it can sometimes

be found at camera flea markets and in "Shutterbug" magazine.

The winder is a Samigon N-2TR winder purchased new for $75.00.

Not to confuse the issue, but this winder has been marketed under a slew

of different names...Samigon, Soligor, Kalimar, Spiratone and others!

These winders are also available in different models

for Canon, Minolta, Olympus and Pentax.

I also have a Nikon MD-12 winder but prefer the Samigon.

The Samigon is lighter, less expensive and uses a simple "sub-mini" plug for the

trigger cord (vs. Nikon's expensive proprietary cord with Nikon special connector).

I couldn't be happier with this winder. What a deal!

It takes only 4-AA's (vs. 8-AA's for the Nikon winder) and has a built in interval timer

which will fire at your choice of 5 sec., 30 sec., 60 sec. or 5 minutes!

Of course, it also has the choice of "single" or "continuos" advance.

This winder will ONLY work with Nikon FM2, FM2n, FE2 and FA bodies.

(NOTE: NOT USABLE with FE and FM!)

Here is a website that illustrates the features of this nifty winder:


The winders are distributed in the U.S. by ARGRAPH


Go to...Catalog...Section A...Camera Accessories

Their East Coast numbers are 1-888-ARGRAPH or 1-800-526-6290

Their West Coast numbers are 1-888-WESTARG or 1-800-323-9069

You may not be able to order directly from them,

but they'll inform you where you can order from.

Samigon N-2TR Auto Winder........................ARGRAPH Part# ASA655

Remote Control Switch for Auto Winder....ARGRAPH Part# ASA667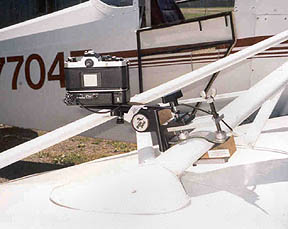 Be sure you get the optional Remote Control Switch for the winder.

It has a three foot cord and a firing button that can be locked to shoot non stop.

To make this rig work, I went to Radio Shack and bought

a 25 foot mini to mini cord...and a couple of sub-mini adapters.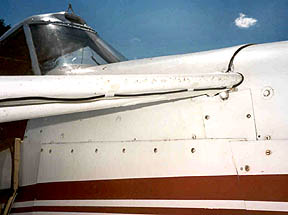 Triggering is via a long cord taped to the strut and fuselage

and run into the cockpit through the side window.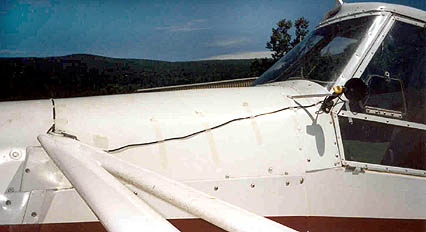 I have used a radio remote control for photos on other planes,

but the radio remote would not work due to interference from

the Pawnee's engine wiring and electrical system (poor shielding).

Exposure was determined with a digital Sekonic incident light meter.

I took an incident light reading of the sky (pointing the sphere straight up),

then opened up (overexposed) one f/stop from the indicated exposure.

I positioned the aircraft so that the sun was shining from a 45degree angle.

Film was Fuji HR200 color negative film. Shutter speed 1/500th.

Filament tape was used to keep the aperture and focus rings in place.

Tape was also wrapped around the Third Hand

tightening knobs so that they wouldn't loosen.

==========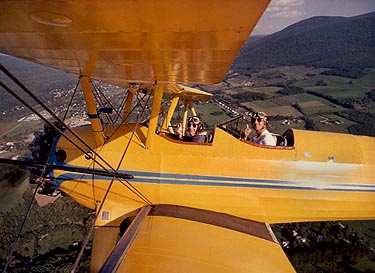 This photo of Kenny Burton's Stearman was shot using a

Nikon FM2n, Tamron 17mm f/3.5 lens and radio remote control.

The camera was triggered from the cockpit by pressing the

button on a small device similar to a garage door opener.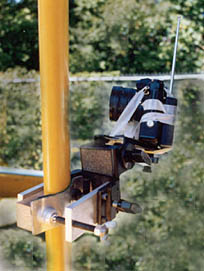 Here is the camera unit with radio remote control

mounted on the Stearman using the "Third Hand".

I always use a thin piece of leather to prevent

the mount from scratching any paint!

The remote control was taped to the

camera with heavy duty filament tape.

The radio remote control cost only $25.00!

I purchased several of these from Service Merchandise a long time ago.

The remote control was part of a Polaroid Spectra accessory kit that was on sale.

I simply replaced the electrical fitting on the device with a "sub-mini" plug.

==========================================